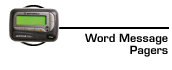 Word Message, or "Alpha-Numeric" pagers work great for the busy person on the go!

Rather than receive just a phone number, with no indication of its importance, you can receive a.netplete text message that scrolls across your pager display.

It will also receive the standard telephone number to call if the person does not have access to NotePager Pro features.